Raised So Far
$201.45
Help us raise vital funds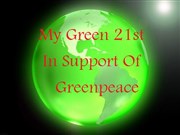 Creator: Edward Riseham
Close at Thursday, 31 May 2012
My Green 21st
Over the last couple months I have been asked repeatedly what I am going to do for my 21st. Every time I have answered with "I don't know". The more I thought about it the more I grew disgusted with the idea of an over the top party costing way too much and most likely just ending up with gifts I would never use.
After my regular Greenpeace newsletter I found a link about fundraisers. This is the result.

So this year I will not be accepting gifts of any kind. This year I want those gifts instead to be made as a donation to Greenpeace in support of everything they do for us. The amount makes no difference. Any contribution will help fund invaluable projects to help sustain the world we live in.
 
Donations can be made via this fundraiser or in person at the party. Those made in person will then be forwarded into the fundraiser account.

I really do hope everyone will make the effort. And if you need any convincing, just take 10 minutes to scroll through the Greenpeace website and see how this organisation has helped so many people and the enivronment. Trust me it is the best 10 minutes you will ever spend towards understanding the importance of the people behind it.

The details of the location and times will be made more clear as we get closer to the party

Greenpeace Australia Pacific
Greenpeace is an independent campaigning organisation that uses non-violent direct action to expose global environmental problems and force solutions which are essential to a green and peaceful future.

We do not accept funding from governments or corporations and therefore cannot accept 'matched gifts' from your employer. To maintain our independence we rely on the goodwill and generosity of members of the public to continue our work. This ensures we're in the best position to take action and confront people and organisations that are destroying our environment.

With your support, we will work to prevent catastrophic climate change and incite an energy revolution; to protect and preserve our oceans and ancient forests; and to create a peaceful and nuclear-free future.

To find our more visit our website at
http://www.greenpeace.org/australia/en
FUNDOMETER Target
$500
Raised So Far
$15